Domenic Esposito, MD
Board-Certified Fellowship-Trained Orthopedic Surgeon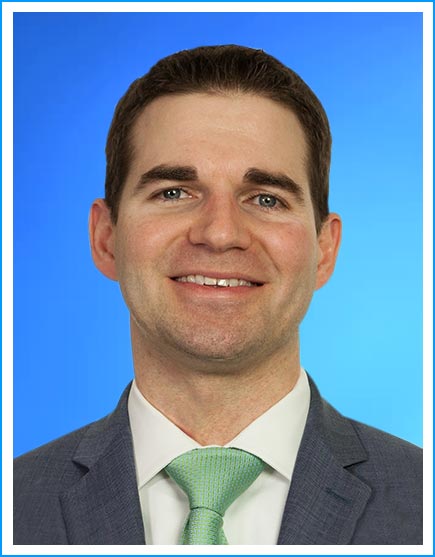 Dr. Domenic Esposito is a board-certified orthopedic surgeon with dual subspecialty fellowship training in sports medicine and foot & ankle surgery. He specializes in knee, ankle, and foot surgery; athletic injuries; and arthroscopic surgery. He also practices general orthopedics including the surgical and non-surgical care of fractures throughout the lower and upper extremities.
Raised in Tallahassee, FL, Dr. Esposito obtained his undergraduate degree in chemical engineering from the University of Florida. He subsequently received his medical degree from the University of Chicago Pritzker School of Medicine. From there, he completed his orthopedic surgery residency training at the University of Illinois at Chicago. Following residency training, he completed a one-year sports medicine fellowship at the Andrews Institute in Gulf Breeze, FL under the direction of world-renowned sports medicine orthopedic surgeon Dr. James Andrews. To further expand his areas of subspecialty, he stayed on at the Andrews Institute for a half‐year foot and ankle fellowship.
During his residency and fellowship training, Dr. Esposito had the opportunity to provide care to many athletes across a variety of sports. While training under Dr. Andrews, he helped provide care to many professional athletes from the NFL, MLB, NBA, PGA, and UFC as well as high-level collegiate athletes from NCAA football, baseball, and basketball. He assisted as a team physician for the Auburn University football team along with serving as the team physician for a local high school during his sports medicine fellowship. He also served as a team physician for multiple sports at the University of Illinois at Chicago during his residency.
In his free time, Dr. Esposito enjoys skiing, golfing, hiking, and fishing. He is proud to be a part of Animas Orthopedic Associates, Animas Surgical Hospital, and the Durango community and is dedicated to providing high quality, individualized care to his patients.
UNDERGRADUATE DEGREE (BS ‐ Chemical Engineering)
University of Florida
Gainesville, FL
MEDICAL DEGREE (MD)
University of Chicago Pritzker School of Medicine
Chicago, IL
ORTHOPEDIC SURGERY RESIDENCY
University of Illinois at Chicago
Chicago, IL
SPORTS MEDICINE FELLOWSHIP
Andrews Institute for Orthopaedics & Sports Medicine
Gulf Breeze, FL
FOOT & ANKLE SURGERY FELLOWSHIP
Andrews Institute for Orthopaedics & Sports Medicine
Gulf Breeze, FL
PROFESSIONAL AFFILIATIONS
American Academy of Orthopaedic Surgeons
Arthroscopy Association of North America
Medical Executive Committee at Animas Surgical Hospital
Durango High School Athletics
HOSPITAL AFFLILIATIONS